2023: Obi Youth Movement kogi Mobilises women, youths  for  Obi/Datti Presidency
A political group, Obi Youth Movement (OYM), has urged youths and women in Kogi to support the ambition of Peter Obi to become Nigeria's president by voting massively for him in 2023 presidential election.
Obi, a former Governor of Anambra State is the presidential candidate of the Labour Party (LP); his running mate is Sen. Datti Ahmed in the 2023 general elections.
The State Coordinator, OYM, Kogi chapter, Rev. Emmanuel Abafi, made the call at a Town Hall Meeting/State Congress on Thursday in Lokoja, aimed at mobilising youth and women especially at the grassroot to vote massively for LP's Obi/Datti ticket in 2023.
Abafi said that the movement was informed by the earnest desire to rescue Nigeria from the present predicament and pitiable condition it found itself  due to bad and corrupt leadership.
"You are all partners in this great assignment of rescuing Nigeria by ensuring the election of Obi/Datti presidential ticket come February 2023 by the grace of God.
"We key into and realization of the dream of our principals of taking back Nigeria from consumption to production, unemployment to employment, insecurity to security.
"A Night where every citizen has equal opportunity devoid of nepotism, tribalism and religious extremism.
"It is a big task but by the grace of God and the support of the right thinking Nigerians like  you, we shall win and all will end in praise," Abafi said
In his remarks, the State's LP Chairman, Mr Abdul Ahmed, thanked OYM for organising the meeting and all other support groups who had participated to the success of the programme.
Ahmed, who was represented by Hon. Bawa Hamza, a party leader, noted that as youths of today, they had realized their past mistakes and were ready to rmake things right.
"As a nation, we have tried the Housas and Yorubas at the presidential level and they have failed us. So, it is time to try the Igbos.
"Peter Obi has become the Moses of Nigeria today," he said.
Ahmed, therefore urged the people to take the message back to the grassroot with effective mobilisation and massive support for Obi/Datti presidential ticket under Labour Party.
A Keynote Address was delivered by Dr Aaron Auduson, a Lecturer at Federal University Lokoja (FUL), on the theme of the event, "Building A New Nigeria: Making The Right Choice of Leadership Towards 2023 Nigerian General Election".
Auduson stressed the need for people to make the right choice of Leadership, who have the attributes that must be considered as guide for election.
He highlighted the attributes to include: capacity to translate vision into reality, big dreams in hope, readiness and commitment to educational development.
"Capacity to transform the country from consuming to producing economy; from importation to exportation; and tackling unemployment.
"Ability to nail corruption and corrupt people, secure Nigeria; National, human and food; respect for rule of law and the constitution; readiness to restructure the country for all-round engagement and service minded".
He, therefore urged Nigerians to arise and take the country back; redeem Nigeria back to her sane estate.
According to him, an estate where Nigerians can freely travel on the roads both day and night without fear of being kidnapped; an estate where the roads are not death traps; and where Nigerians will be respected again outside Nigeria territory.
Also speaking, the LP House of Representatives Candidate Lokoja/Koto, Hon. Zechariah Jonathan, commended the organisers for putting the programmes together for the rescue of Nigeria.
"You are here because you want to see a dream and a change that you believe it is possible
"This movement is beyond Peter Obi, if he says he is not doing again, there will be more than 3 replica of Obi that will come out in the movement because it is a divine mandate," he said.
He described Peter Obi as man of humility and as a servant leader who could truly rescue Nigeria from its present predicament.
Jonathan urged the people to ensure they reachout to the grassroot and mobilise voters to vote for LP candidates at all levels at the 2023 general elections.
Various women and youth groups were also on ground at the town hall meeting to express their support for LP's Obi/Datti presidential ticket.
Dr Joy Anchor, a lecturer at Federal University Lokoja (FUL), stressed the need to join hands together to make Nigeria work again by voting for Peter Obi/Datti Ahmed come 2023.
Dr Douglas Ndidigwe of Federal University Lokoja, also delivered a lecture on "the Role of the Youth in Nation Building".
Ndidigwe emphasised the need for Nigerian youths to get it right this time around by supporting the right candidate, stressing that youthful age depend on individual state of mind.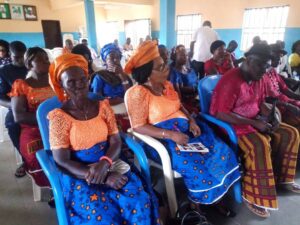 End