Treasure Ochemeje
In recognition of his  brilliant performance at the helm of Kogi state polytechnic, Lokoja, the Ata Igala HRM Matthew Alaji Opaluwa Oguche Akpa11 has concluded arrangement to confer the title of Oma-Oja Ata Igala on the Rector, Dr. Salisu Usman Ogbo.
In a statement made available to newsmen on Thursday by the polytechnic Public Relations officer, Uredo Omale said the conferment was disclosed to him on Wednesday, 9th November, 2022 at the palace of the Ata Igala at Idah.
The statement added that the monarch who is the  Chairman, Kogi State Council of Traditional Rulers and Chancellor, Federal University Oye-Ekiti, Ekiti State, had earlier in a letter addressed to Dr Usman stating that  "The conferment is based on his  immense contributions to the socio-economic development of lgala Kingdom, Kogi State and the Country .
The monarch while appreciating the efforts, dedication, commitment and achievements of Dr. Usman in the last 2-years of his Leadership as Rector, stressed that the conferment of the chieftaincy title is a mark of honour for Dr Usman's selfless service and challenged him to do more for the Igala Kingdom, Kogi State, and by extension, the fatherland.
While appreciating Dr. Usman's uncommon leadership qualities as a worthy and illustrious son of the Igala nation, the traditional ruler showered blessings and prayers on the recipient and charged him to continue on the path of selfless and exemplary leadership in the discharge of his responsibilities, noting that, "It's not how long you live that matters, but the impact you make while you are alive."
Responding, Dr. Usman commended the Ata Igala, HRM (Dr.) Matthew Alaji Opaluwa Oguche Akpa  for the honour and recognition, and assured the monarch that he would continue to do more for the development of Igala nation, Kogi State in particular and Nigeria in general.
He stressed that he would never disappoint the monarch on the confidence reposed in him.
The Rector said he would remain committed to the development of the State, and would discharge his duty creditably as expected of him.
He appreciated His Excellency, Alhaji Yahaya Adoza Bello, Kogi State Governor, for giving him the platform to serve and contribute his quota to the development of the state.
Earlier, the Ejeh Ofu, HRH Alhaji Akwu Obaje, appreciated the Ata Igala  for always identifying and appreciating the efforts of the illustrious sons and daughters of the land, stating that such gesture would attract more development to the land.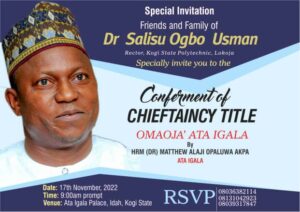 .