" Sue for patience, understanding.
The Kogi State Commissioner for Water Resources, Mr Abdulmumuni Danga, has reassured the people of kogi state of the  government's commitment to rectify the wanton destruction of equipment at the state water plant at Ganaja, by the 2022 flood.
This is a he appealed to residents of Lokoja metropolis to exercise patience and understanding as government is working assiduously to reactivate the plant  , saying their pains is of utmost concern to the government.
Danga made the plea during a  facility tour of the plant with the Daily independent over the weekend in Lokoja.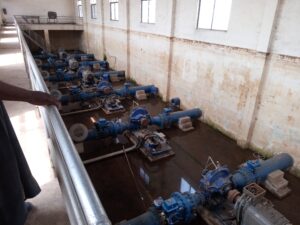 The commissioner said that the shortage of water supply was due to the huge damaged to the mechanical and electrical equipment by 2022 floods at the Ganaja Water Works.
According to him, the whole equipment were submerged and rendered inoperative  by the 2022 floods
He however assured that Governor Yahaya Bello, had  given an approval for the replacement of those equipment, even as arrangements were in top gear to bring them into the country.
According to him "Most of these equipment are not something you can get on the shelf, so we have to place order to the manufacturers and then ship them to Nigeria, which takes time.
"As at last night all the equipment had been loaded on the ship and we should be expecting them very soon.
"In the next two weeks, everything will be sorted out.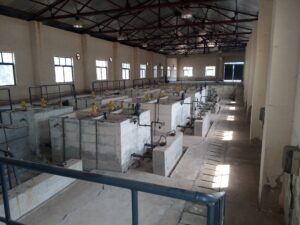 "We are doing our best as government to reduce water scarcity in Lokoja to the minimum level.
"The masses voted for us and we are here to serve the them," the commissioner said.
Danga noted that as palliative measure, the government had done some repairs at the Old Lokoja Water Works for water supply to some parts of the state.
According to him, the Old water works is currently supplying water to nearby communities of Kabawa, Karaworo, pata, Cantonment, Maigari palace and Traditional areas , but of course majority of residents are connected to Greater Lokoja water plant.
He, therefore appealed to the residents to be patient with the State Government, saying, "we are doing everything possible to make water available across the confluence city within the shortest possible time".
The commissioner stressed that the problem was due to natural disaster and not the fault of the state government.
He said that he had personal meetings with stakeholders  and residents, where he appealed to them to be patient, saying it had never been like this since the inception of this government.
"I believe in the next two weeks the equipment will arrive and it will not take between four to five days to install them, and water will be restored to the metropolis," Danga said.
Recall that the #10.5 billion naira water work , known as Greater LoKoja water plant was constructed by Alhaji Ibrahim Idris administration to supply water to Lokoja metropolis and its environs.